Top E&O Claims

Claim 1: Water Damage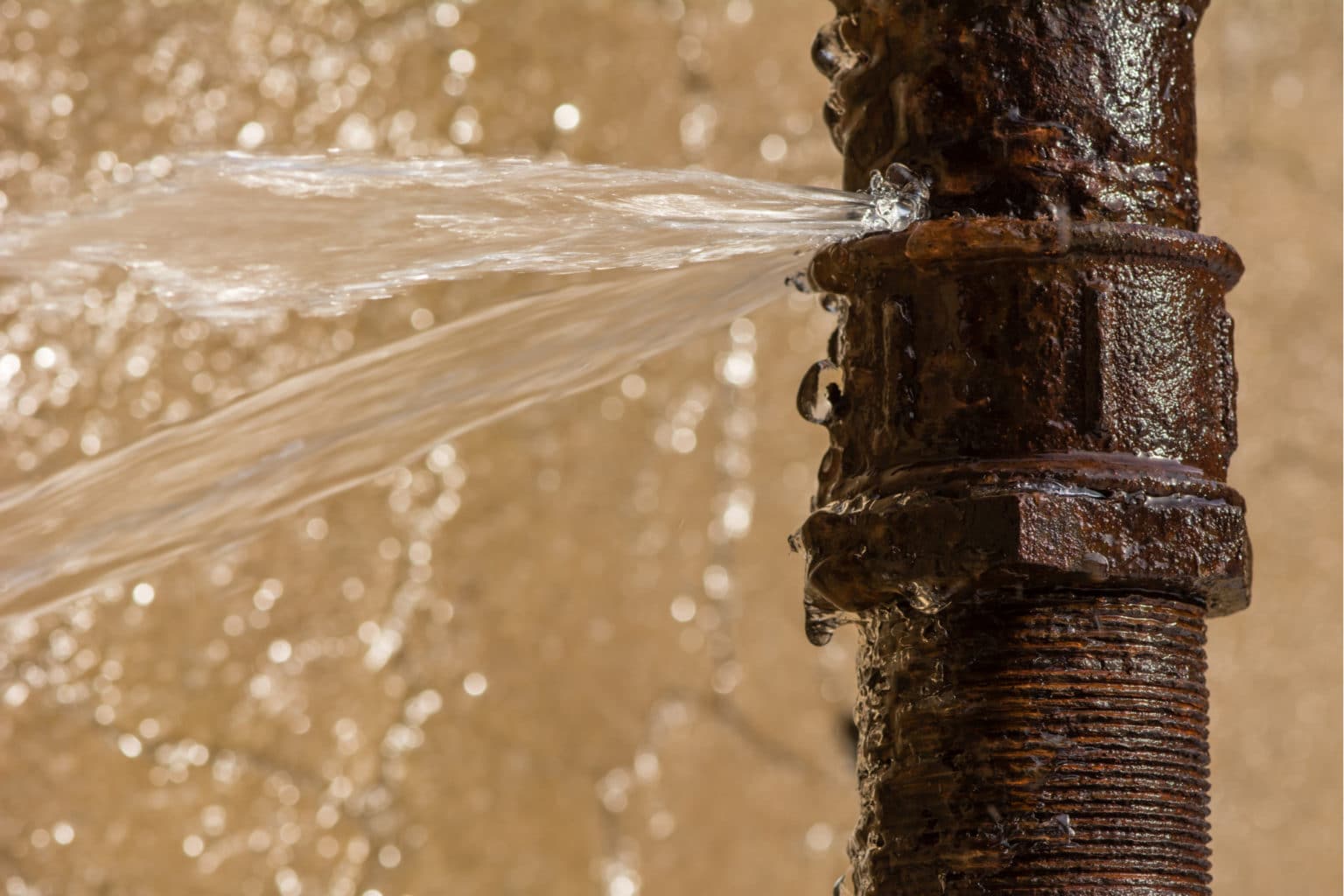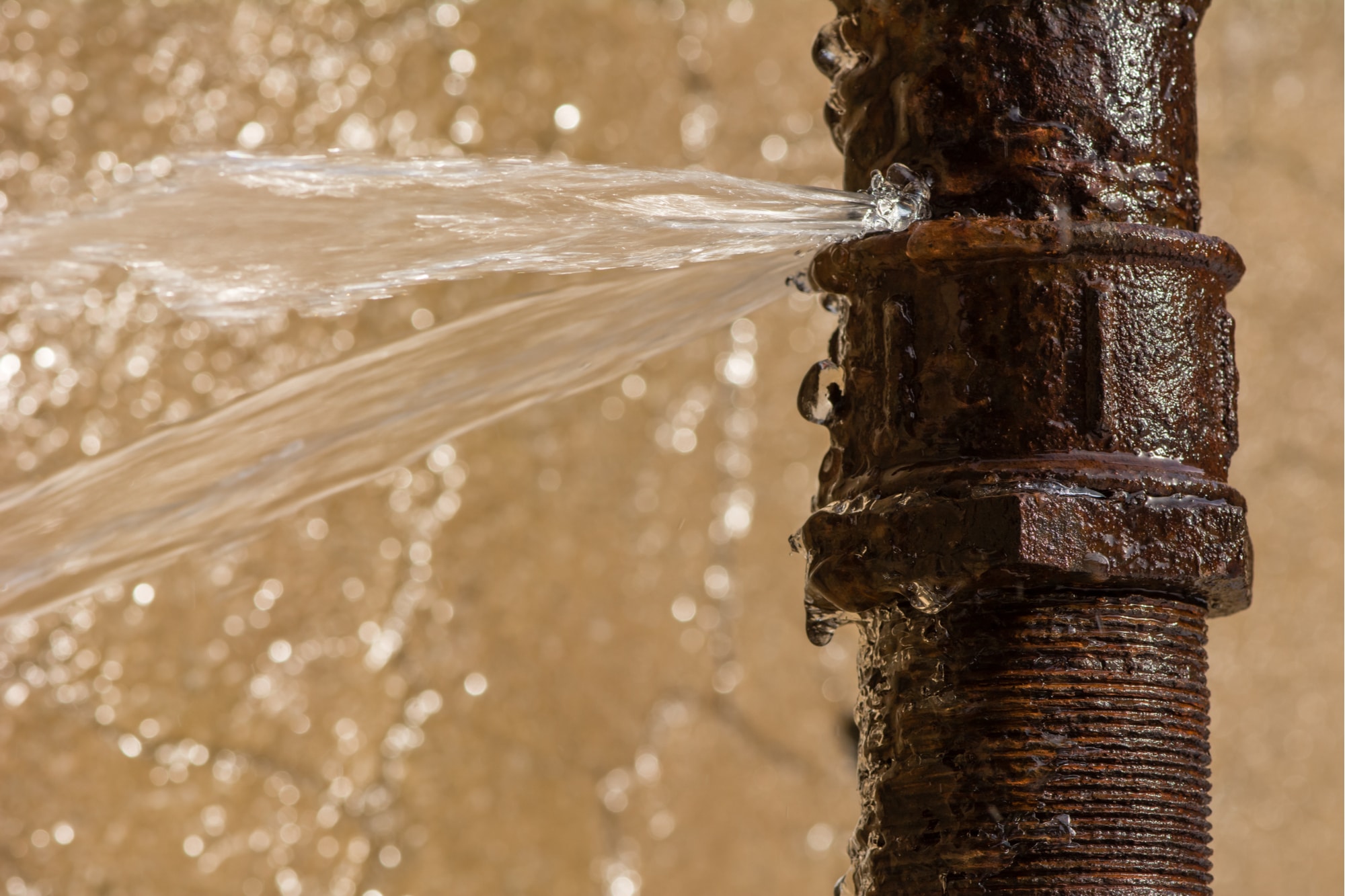 Of all the allegations we receive, claims of water damage are the most common claims against home inspectors.
Why is water damage so common?
"Water intrusion is the Number 1 enemy because it attacks from all potential angles of the home, from the roof down to the foundation," explained Hank Spinnler, Owner of Harmony Inspection Services in Georgia. "It degrades materials like sheet rock and drywall, it rots wood, and it can lead to microbial growth."
Todd Miller, Owner of HomeSpec Certified Inspections, Inc. in Florida agrees. According to Miller, inspecting for water damage goes beyond fulfilling a home inspector's requirement to do so because it's one of the most common types of damage uncovered in inspections. Miller estimates that eight of every 10 homes he inspects has water intrusion or water damage issues.
"It's water, water, water all the time, so to keep the house safe and secure, you have to inspect for it. You have to try to find it as best you can within your SOP and certainly report on it," Miller said.
Where is water damage common?
Finding where water intrusion may start (or where's it's already left its mark) begins with knowing where to look. We list just a few of the common problem areas:
Leaky or Burst Pipes
Homeowners that don't maintain their pipes can run into trouble. Aged pipes and hoses may rust, crack, or deteriorate, making room for water leaks.
"You're going to find leaks underneath sinks. You're going to find leaks in attics—especially in the south," Miller said.
Malfunctioning Appliances
As household appliances (for example, washing machines, refrigerators, water heaters, and dishwashers) age, so do their pipes and hoses. And even homeowners keep up with pipe and hose maintenance, insecurely connected fittings and improper seals alone can lead to leaks.
In addition, homeowners that avoid regular service dates may find that their seemingly operational appliances were malfunctioning out of site. (Think moisture build-up within an air-conditioning unit damaging drywall.)
Poor Planning
Although many water intrusion issues result from neglect or age, others result from poor planning. Here are some examples:
If the lawn sprinklers are angled in such a way that they spray the property every morning, the sprinklers may damage the exterior and then the interior of the home.
Indoor plants with uncovered holes at the bottom of the pot can damage floors.
Recent construction may give water new ways to enter and damage the home.
What you can do
As with all claims prevention, it's important to have a thorough pre-inspection agreement and inspection report (that includes photographs). In addition, there are some specific ways to avoid water damage claims.
Inspection Methods
Here are some methods that fellow fellow home inspectors recommend:
When trying to spot a leak, think like water.
Look to the places you'd expect water intrusion and leaks to occur (for example, beneath dishwashers, under jetted tubs, beneath shower pans, and under the kitchen sink).
Note any areas that look discolored, stained, swollen, or moist.
Pay special attention to basements and attics as they are common places for water intrusion to start. Careful inspection of these areas can also reveal signs of water damage faster than the exterior of the house.
Be sure to look for signs of water intrusion outside of the house.
In addition, you may want to consider using technology, such as an infrared camera and a moisture meter, to augment your ability to spot water damage.
Claims Protection
After you've established that there's a water intrusion issue or water damage in a home, it's important that you communicate your findings clearly to your client. Experienced inspectors recommend emphasizing the limitations of an inspection and explaining your findings in terms the client can understand.
Even if you do everything right, you can still get a water damage claim. That's why it's essential for home inspectors to carry errors & omissions insurance (E&O) for defense and payout help. Contact your InspectorPro broker or submit an application to receive a home inspection insurance quote at no obligation.
Up Next: Roofing claims.
The ASHI Reporter published this article in September 2018. See how this story appears in print on pages 6-7 below.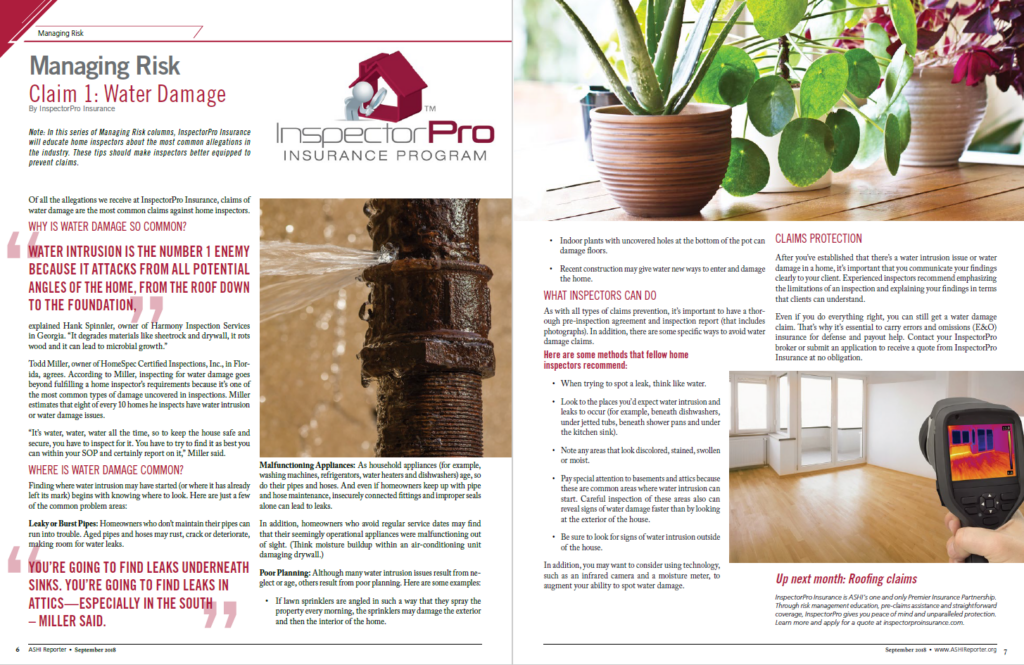 Related Posts