How to become a
home inspector in Iowa
If you like helping people, have previous construction experience, or love exploring what makes buildings tick, you may enjoy working as a home inspector.
Of course, as with all careers, joining a community of Iowa home inspectors requires more than fascination. It also requires dedication, a desire to work hard, and a willingness to pursue constant learning. Actually, that learning begins right away: with learning to navigate Iowa's home inspector requirements.
Iowa is one of the states that does not regulate its home inspectors through licensing. Therefore, your journey presents fewer barriers to getting started. But that doesn't mean you won't have questions.
In this guide, we're sharing how to become a home inspector in Iowa without licensing requirements. We also break down why Iowa home inspectors should still choose insurance–even when it isn't mandated.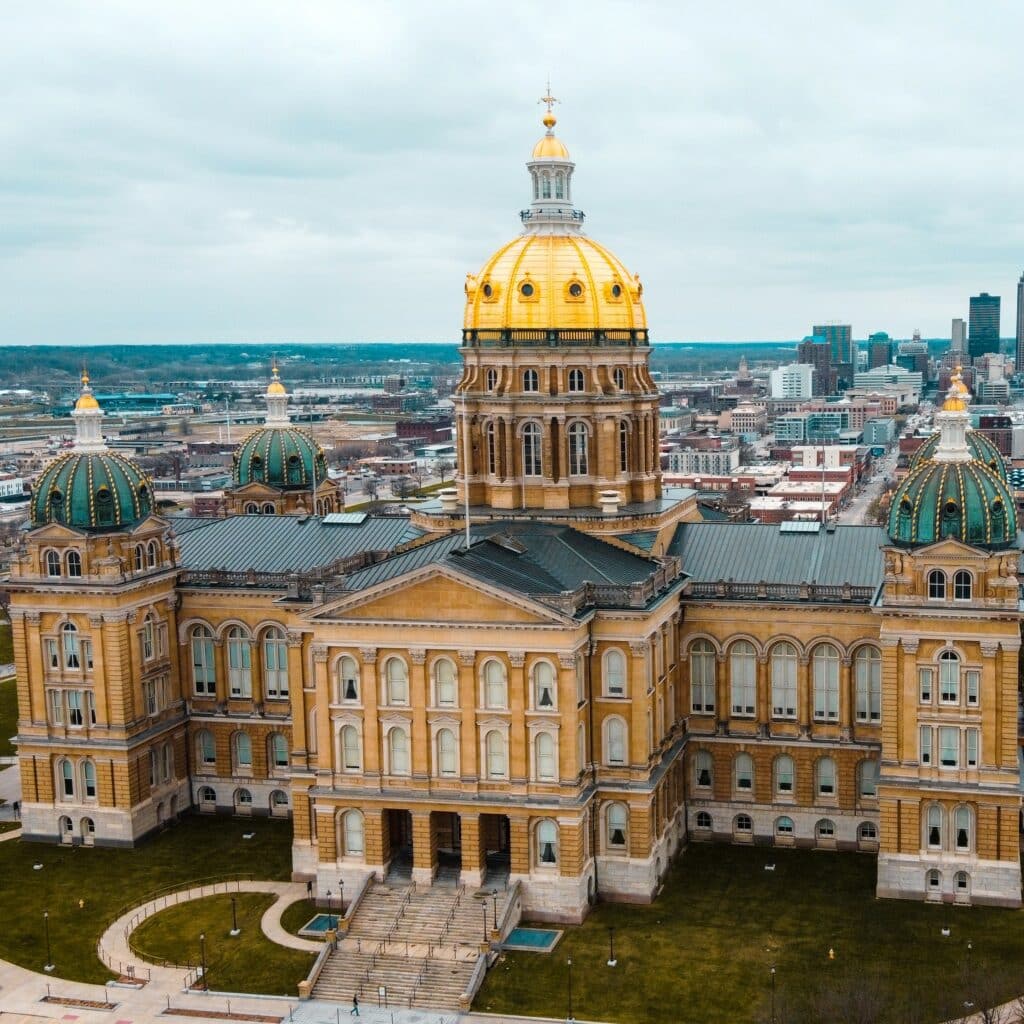 Should you get certified without an Iowa home inspector license?
Because your state does not regulate its home inspectors, you don't need to get an Iowa home inspector license. Nor do you need to meet any Iowa home inspector insurance requirements, adhere to specific prerequisites, or pursue continuing education (CE).
Even so, many in your community suggest pursuing education, insurance, and training before jumping into a home inspection business. 
Why? In a state where doing so is not mandatory, learning through a professional organization–like the American Society of Home Inspectors (ASHI) and the Inter­national Association of Certified Home Inspectors (InterNACHI)—and passing the National Home Inspector Exam (NHIE) makes you stand out from the competition. 
You'll find that buyers, sellers, and realtors prefer to hire home inspectors who take that extra step. It shows you'll do more than the bare minimum to perform thorough, high-quality home inspections. 
Second, state-recognized courses should prepare you for the business practices you're legally and ethically expected to adopt, explains American Home Inspector Training (AHIT). 
So, what does the process of starting an Iowa home inspection business look like?
Basic Steps for Becoming an Iowa Home Inspector
If you wish to establish your expertise in Iowa's inspection community, prepare to do the following:
Take a state-recognized home inspection course, like through

AHIT

,

ASHI

, or

InterNACHI

.

Pay fees to take the National Home Inspector Exam (

NHIE

). Get a passing score..

If you haven't already, join a professional home inspection association to network and find mentors in Iowa. ASHI, for example, maintains an

Iowa chapter

. Membership could require CE hours. But it also connects new Iowa inspectors with a community, resources for a successful business, and standards and ethics to abide by.

Determine which kind of business you want to run, or if you want employment with an existing inspection firm. Read about the pros and cons of both options in Forever Home Inspections's

blog post

.

Though not required in Iowa, protect your business against claims with errors and omissions (E&O) and general liability (GL) coverage.
Along the way, you'll face decision after decision about which equipment to purchase, how to plan for future revenue and financial stability, which additional certifications to get, and more. Read our article to find out what to expect in your first year as an Iowa home inspector. 
Without Iowa home inspector insurance requirements, why does insurance still matter?
Pesticide Application
For the most part, the state of Iowa does not require home inspector insurance. One exception: offering pest inspections. Upon request, we're happy to provide this coverage to help you check off this Iowa home inspector requirement. We're happy to provide this coverage upon request! 
General
Just because Iowa does not require home inspector insurance, does not mean it's any less important. In reality, having coverage as an Iowa home inspector can significantly reduce your time, financial, and stress burdens if your business ever receives a claim. Read our article to see how we debunk common myths home inspectors have about insurance.
Kinds of Insurance
In what circumstances might an Iowa home inspector need insurance? Here are some examples:
Tail Coverage:

You're retiring and don't want to worry about claims during your first years out of the inspection business.

Equipment Coverage:

Someone steals your drone out of your locked inspection vehicle.

Workers' Comp: Your employee slips and falls from a roof during her inspection. She needs x-rays and physical therapy. Read about Iowa's workers' compensation policy for employers here. If you hire employees, check if you fall under Iowa's home inspector requirements for this benefit.
Why InspectorPro?
We understand home inspectors. Plus, we have over a decade of experience advocating for them. Handling and helping you prevent your claims is our area of expertise. We'll even reward you for your own success in preventing claims. Explore what makes the InspectorPro team stand out.
Our program offers unique benefits catered to the home inspection industry. For example, through our pre-claims assistance program, if you report an incident or complaint before it becomes a claim, we'll help you de-escalate that complaint at no cost to you. Furthermore, because your pre-inspection agreement plays a crucial role in your risk management, we've written our own state-specific pre-inspection agreements, available exclusively to our insured inspectors at no additional cost.
At the end of the day, our E&O and GL policies are built to serve your unique business needs, making it the best home inspector insurance for you. Insuring with anyone else simply isn't worth the risk.
Have questions?
Are you interested in learning more about how to become a home inspector in Iowa? Ready to discuss why your home inspection business needs insurance, even though Iowa doesn't have home inspector insurance requirements? We'll get you in touch with a member of the InspectorPro team. We look forward to serving you, and we're excited to welcome you to the home inspection community in Iowa!